Artists' talks and screenings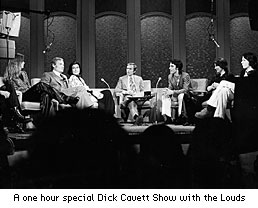 Sunday March 2 2008
Broadcast Yourself: In Person and On Screen, Star and Shadow Cinema, Stepney Bank, Byker
11:30am - Q&A with co-curators Sarah Cook and Kathy Rae Huffman
1:30pm - Presentations and discussion with international artists included in Broadcast Yourself: VanGoghTV, Shaina Anand, and Active Ingredient (Rachel Jacobs and Matt Watkins) from MakeTV, with guest TV producer Maria Pallier from TVE (Spain).
7:00pm - Screenings
American Family Revisited a 1983 documentary about the first reality TV show chronicling the lives of the Loud family from California, produced and directed by Alan Raymond and Susan Raymond; followed by The Truman Show.
See www.starandshadow.org.uk for more information.
Guided Tour
Wednesday 12 March, 6 pm, Hatton Gallery
Exhibition walkthrough and discussion with co-curator Sarah Cook
This event is free. For further information and to book your place please contact the Hatton Gallery on 0191 222 6059 or email hatton-gallery @ ncl.ac.uk
Documentation of these events is forthcoming.